The Monkees' Head: 'Our fans couldn't even see it'
At the height of their fame, the Monkees teamed up with Jack Nicholson to film the psychedelic classic Head – and destroy their careers in the process. So how do they feel about it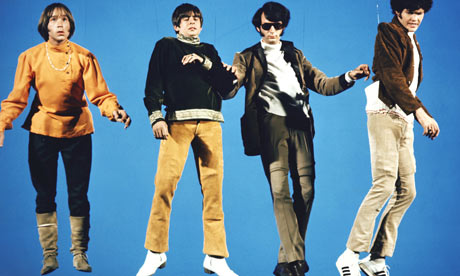 Head-on crash … Peter Tork, Davy Jones, Michael Nesmith, Micky Dolenz in the controversial 1968 film. Photograph: Everett Collection / Rex Feature
Davy Jones doesn't really want to talk about Head. The former Monkees heartthrob is happy to talk about his old home in Manchester, his new home in Florida, his racehorses, his theatre career – anything, basically, except the cryptic, psychedelic art movie that, in 1968, marked the end of the Monkees' short tenure as the biggest rock band in America. "We were pawns in something we helped create but had no control over," he says crossly. "We should have
Head could never be mistaken for Ghostbusters. It's a fourth-wall-shattering, stream-of-consciousness black comedy that mocks war, America, Hollywood, television, the music business and the Monkees themselves. These days, it is fondly remembered as one of the weirdest and best rock movies ever made, and a harbinger of the so-called New Hollywood. Quentin Tarantino and Edgar Wright are both fans. DJ Shadow and Saint Etienne have sampled its dialogue. According to director Bob Rafelson, the Beatles and the Rolling Stones both requested private screenings, while Thomas Pynchon attended a screening disguised as a plumber. But to the fans who had made the Monkees household names, it might as well never have existed. "The movie dropped like a ball of dark star," says bassist Peter Tork. "The simile of a rock in the water is too mild for how badly that movie did."
Jones, Tork and drummer Micky Dolenz are about to embark on a reunion tour but, even after 43 years, the subject of Head still stirs complicated emotions. Jones is more peevish than his cute television persona, and Tork more thoughtful than the clueless dope he portrayed. Only Dolenz is instantly recognisable as the up-and-at-'em showbiz pro. (Guitarist Mike Nesmith, who is prickly and distracted in Head, is sitting out this reunion.) Their memories of Head are as different as their personalities. "I can only give you my personal view on this," Dolenz insists. "You'll get very different answers from them. It's like Rashomon."
Rafelson, a charismatic director hungry for his big break, dreamt up a TV show about a rock band, inspired by the Beatles and especially Richard Lester's A Hard Day's Night. His business partner in the production company Raybert, Bert Schneider, was the son of the head of Columbia Pictures, whose TV division agreed a deal for the show in 1965. Putting out a call for "four insane boys," they auditioned such future stars as Harry Nilsson, Stephen Stills and Van Dyke Parks before settling on two former child actors (Jones and Dolenz) and two unknown folksingers (Nesmith and Tork).
Arriving with a bang on 12 September, 1966, The Monkees television show was the acceptable face of the counterculture, mixing cheerful anti-establishment spirit and witty, innovative direction with the old-fashioned knockabout humour of the Three Stooges and the Marx Brothers and some brilliant songs – the Neil Diamond-penned I'm a Believer kept both Good Vibrations and Strawberry Fields Forever off the top of the US charts. "The only time you saw long-haired kids on television was when they were being arrested," says Dolenz. "And then we come along and all we want to do is have fun and dance and sing and help little old ladies across the road."
via The Monkees' Head: 'Our fans couldn't even see it' | Music | The Guardian.